[et_pb_section admin_label="section"]
[et_pb_row admin_label="row"]
[et_pb_column type="4_4″][et_pb_text admin_label="Text"]On memorial day we think of those who have sacrificed much for us to live in liberty. What liberty means to me is the freedom to pursue a life of meaning as I define it, not as someone else might define it for me.
To that end I want to take a break this week from the data and the prognostications, and instead share a little of what I've been reflecting on lately as it relates to our business; To memorialize a thing or two!
Real  estate sales (indeed any sales career) can be a cruel mistress! You can be riding high in abundance in one season, and then soon after go months without a sale. No sales equals no income. It is not for the faint of heart!
The great mistake many in our field make is to focus on the commission – the deal! This focus can sour your counsel and lead to anxiety when a deal threatens to fall through. But what if the deal falling through is the best thing for your client? What if there is a better home for them out there or it's just not the right time for them to buy after all?
Before I started working with my dad, I worked with a top producing agent in Idaho and also did phone sales for over a year (soul draining but incredibly educational!). I learned a lot from both of those experiences but perhaps my most treasured lesson I gleaned directly from my father, and that was how to overcome this damaging mentality.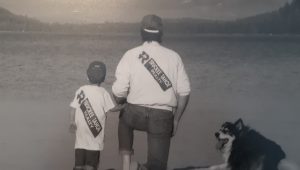 What I've always admired about my dad, especially as I've seen firsthand in business over the last six years, is his ability to detach himself from the outcome of the deal and focus 100% on what's best for our clients. This is the crux of the matter; to steer our hopes to align with our clients and our expectations to their enrichment, not our own.
Recently I've been mentored by an old friend who reminded me that this sort of mindset leads to honest and real conversations as opposed to cheap sales pitches. It allows for real relationship and trust building that creates clients for life. It's also why so many of our clients genuinely become our friends, and not just part of our book of business. It is soul enriching instead of soul draining!
We have a lot of vision for the future of the Bodeen Team, both in terms of measurable growth and continuously improving the quality of our services for our clients. But this core mindset that my dad has taught me will remain the foundation of our business as long as Bodeen is in the name. And this is what I want to memorialize today.
When I've been doing this for 43 years as he has, and my dad is sitting on a beach somewhere smoking a cigar (just kidding he loves beaches, cigars… not so much lol) I can think of no greater measure of success but that this value be yet cultivated and maintained.[/et_pb_text][/et_pb_column]
[/et_pb_row]
[/et_pb_section]