Last week we began to look at the Due Diligence (Inspection period) section of the Arizona Purchase Contract. We did this from the buyer's perspective. This week, we'll look more in depth at strategies a buyer can employ to negotiate required repairs uncovered by an inspection.
Before we get into it, a little context and a reminder from last week: The Due Diligence period is perhaps the single most critical clause in our purchase agreement! Why? Because of the following wording in lines 191-192 of the agreement:
"Condition of Premises: BUYER AND SELLER AGREE THE PREMISES ARE BEING SOLD IN ITS PRESENT PHYSICAL CONDITION AS OF THE DATE OF CONTRACT ACCEPTANCE. "
Can you say, "As Is?" That's right, the default real estate contract in Arizona is an "As Is" deal. That doesn't mean the buyer has no protection. It means everything becomes negotiable! And if the seller won't agree to the buyer's requested repairs, the buyer can walk!
Let's be specific. Here is the actual Due Diligence contract language:
"Inspection Period: Buyer's Inspection Period shall be ten (10) days or ______ days after contract acceptance. Inspection Period Buyer, at Buyer's expense, shall: (i) conduct all desired physical, environmental, and other types of inspections and investigations to determine the value and condition of the Premises; (ii) make inquiries and consult government agencies, lenders, insurance agents, architects, and other appropriate persons and entities concerning the suitability of the Premises and the surrounding area; (iii) investigate applicable building, zoning, fire, health, and safety codes to determine any potential hazards, violations or defects in the Premises; and (iv) verify any material multiple listing service ("MLS") information. If the presence of sex offenders in the vicinity or the occurrence of a disease, natural death, suicide, homicide or other crime on or in the vicinity is a material matter to Buyer, it must be investigated by Buyer during the Inspection Period. "
In last week's blog, we stated that our number one best advice was the selection of the Home Inspector. Their former construction/building experience and their personal integrity form a great advocate combination for the buyer. This is the buyer's tool for convincing the seller of the severity of the various issues!
"When you read, "the roof, AC, etc., is at the end of its useful life, this is Inspector-speak for, 'It's toast!'"
Buyer's strategies:
Review AAR's "Buyer Advisory." It is one of the nation's finest online real estate information resources. You need to know what you should be on the look out for, especially if you're a first time home buyer! We recommend you read this document thoroughly.
The initial home inspection is "general." The inspector is "observing" possible issues, not determining their cause or cost to repair. Observe red flags resulting from this inspection and be prepared to obtain further inspections, bids, for all findings, like AC, roof, plumbing, electrical, pool, mold or other. Be prepared to order additional inspections/estimates for issues that the general inspection brings up!
If dealing with a more complicated, older, or property in obviously poor condition, request 15 days for the inspection period instead of the default 10. This will provide extra inspection time for more specific inspections if needed. You don't want to make decisions under pressure or with a lack of information, so having the time to really understand the property is critical!
Take the inspector's language seriously. For example, when you read, "the roof, AC, or hot water heater, etc., is at the end of its useful life," on the inspection report, that is code for: "It's toast!" It will need to be replaced soon. The question is, who will pay for the replacement? The answer is you, the buyer, as the new unhappy-homeowner. Unless that is you negotiate some seller concessions during the Due Diligence period. More on this below!
Always have a pest (termite) inspection. 99.9% of sellers are willing to pay to correct termites. If termites are found and treated, the company will warrant the property for one year and will renew year to year for a modest fee. An inspection company we prefer will actually warrant the property for one year against termites if they didn't find any termites. Remember, there are 3 types of properties in Arizona: 1 –  One that's had termites, 2 – One that currently has termites, or 3 – One that will have termites.
A few notes on item four, the roof issues! This is probably one of the biggest deal killers we have in Arizona. The standard expected life of a roof here in AZ is really 10 to 30 years, depending on type and who you ask. Well that's about now for a sizable chunk of AZ homes out there. A roof replacement can be as cheap as $3,500 for a small tiled roof in which only the felt and battens need to be replaced. On the other hand, a large roof that needs tiles replaced as well can be extremely costly.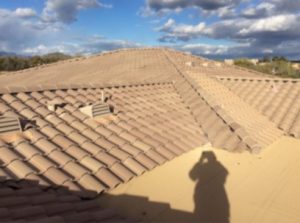 Case in point, one recent roof replacement bid originating from an inspection finding noted that an expensive sand-cast style roof system replacement could cost $44,000 to $64,000. In a costly situation such as the this example, what's reasonable for a buyer to request in concessions? A new roof? Usually not unless the owner represented that the roof was in fact new or in good condition.
In fact, unless there is evidence of a great deal of active leaking in the home, most sellers will see a request for a new roof as being unreasonable, regardless of it's age. On the other hand, moving into a home with roof that ticking away like a time bomb may not be wise. What's to be done?
Requesting the seller to split the cost and give as a credit, if possible, may be appropriate. On the other hand, if you're getting a smoking deal on the property, no concessions from the seller may still be acceptable, but you best be budgeting for that roof!
In some rare cases, we have been successful in getting the seller to pay for a full roof replacement for our buyer clients. It is really a case by case basis. With all these things, the important thing to remember is to not get too attached and be ready to walk if the seller won't budge and you can't afford the risk (easier said than done!).